Instruction
Looking to learn some of Stu's songs or techniques? Why not learn from the man himself! If you are in the San Francisco area you can have a private lesson at Blue Bear Music with Stu. Email or call 415.673.3600 for more details!
Check out Stu's instructional DVDs below for more information, audio samples, and purchasing options. If you live in Europe, please click here to shop from GuitarEuroShop.com.
---
50 Pro Bass Grooves – Interactive TrueFire Video Course
"No one can be a master of all musical styles, but if you have a basic understanding of the fundamental grooves found across a variety of popular musical genres, it will greatly help you get gigs and sustain a career. There are plenty of great bass players who work all the time because they just show up, play the right part and get called back. I've pulled together 50 essential bass lines and grooves, across a wide musical landscape, that will prepare you with the musical diversity you'll need as a working bassist." Indeed, Stu delivers grooves and lines across a very wide musical landscape; from mainstream Blues, Rock, Metal and Funk to Latin-Pop, South African, Ska, Caribbean and New Orleans to Motown, Funk, Soul and Gospel and even four walking bass lines for jazz. Stu also demonstrates several grooves in the odd time signatures that you're likely to encounter on the bandstand. It's all here. Stu not only demonstrates the grooves over a rhythm track, he breaks it all down with special emphasis on the correct right and left-hand techniques you need to develop to pull the groove off just like the pros.
>> Buy Now
>> Full Description
---
Bass Basics – Interactive TrueFire Video Course
Bass players lay down the foundation in practically every style of music by bridging the gap between the strict rhythm of percussion instruments and the melodic domain of lead instruments and vocals. Today's bassists must not only lock-in with the drummer to serve up the all-important "groove" but are now also called on to step up front and treat the audience to a searing and melodic solo from time to time. Good bass players are in high demand and can easily find gigs, making the instrument an attractive proposition for aspiring musicians. But once you decide to learn how to play bass guitar, you still face the question of where to begin and that's what the bass guitar lessons in Bass Basics are all about.
>> Buy Now
>> Full Description
---
Slap Bass – Interactive TrueFire Video Course
Whatever style you play, a little slap and pop goes a long way to color up your bass lines and solos. In this Slap Bass course, Stu unravels the ins and outs of this technique focusing on essential thumb skills and the underlying rhythmic and percussive qualities that are so important when employing tap moves. In this Slap Bass course, I will be teaching you the techniques and stylistic approaches that you'll need to have a solid grip on to build and ultimately master your slap and pop musical vocabulary. There are as many ways to "slap that bass" as there are bass players, but in this module, I have assembled all of the techniques that I have found to be the most useful and effective. Have fun with this!
>> Buy Now
>> Full Description
---
Tap Bass – Interactive TrueFire Video Course
Tap bass is a relatively new technique favored by many of the world's top contemporary bass players. Tapping is a very expressive tool, which will significantly expand the colors, textures and sonic qualities you'll have at your disposal for any melodic application. Stu covers right-hand, left-hand and best of all — simultaneous two-hand tapping. Here at last is my entire curriculum for learning how to "tap" on the electric bass guitar! We'll start at the very beginning with some basic exercises to get your fingers trained and strengthened up. Once you have a basic understanding of the concepts and become familiar with the essential tapping techniques, we'll put it all to work and start making music! Take your time with this module — it will pay off big time for you!
>> Buy Now
>> Full Description
---
Fretboard Fitness – Interactive TrueFire Video Course
Stu Hamm's Fretboard Fitness digs deep into bass guitar fretboard navigation, finger agility and the theoretical knowledge necessary to play all styles of music. If you consider yourself an intermediate bass guitar player, Stu Hamm's Fretboard Fitness is the bass boot camp you need to take your skills to the next level. All in all, Fretboard Fitness will get your bass guitar theory, technique and fretboard savvy up to speed in a relative hurry. Stu has organized an extremely efficient and well-balanced course of study that will save you hundreds of hours of wasted practice, but you need to bring the desire and discipline to the table to make it happen. Start today.
>> Buy Now
>> Full Description
---
Bass Transcriptions: Outbound & Beyond – Instructional Book
This transcription book contains 17 songs, including every track from Stuart's most recent studio record Outbound, together with his renowned classical adaptations, Beethoven's "Moonlight Sonata", Bach's "Prelude In C", and Debussy's "Dr. Gradus Ad Parnassu. Also included are his 'Quahogs Anyone?' solo from The Urge, and three tracks that Stuart recorded with experimental fusion trio GHS – "Nostalgia", "November", and "Wrong & Strong?". All transcriptions are presented in both standard notation and tablature, with chord symbols. In addition to the 18 transcribed songs, the book includes a Stuart Hamm biography, information on his basses, and detailed performance notes – with comments from Stuart himself – for each song.
>> Buy Now
>> Full Description
---
Slap, Pop & Tap for the Bass – Instructional DVD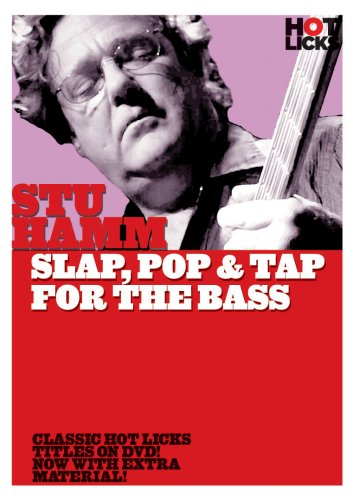 As we all known, Stuart Hamm is known as one of the world's greatest bass guitar talents, and this instructional DVD covers an incredibly wide array of Stu's styles and techniques. You'll get into left-hand stretching exercises, major and minor arpeggios, playing chords, slapping & popping, funk, hammer-on slaps, triplets, right-hand flamenco strums, two-handed polyphonic tapping, contrapuntal playing, percussive tapping, playing a melody with the right hand while the left hand plays a bass pattern, classical techniques and styles, and Bach's Prelude in C.
>> Buy Now
>> Full Description
---
Deeper Insider the Bass – Instructional DVD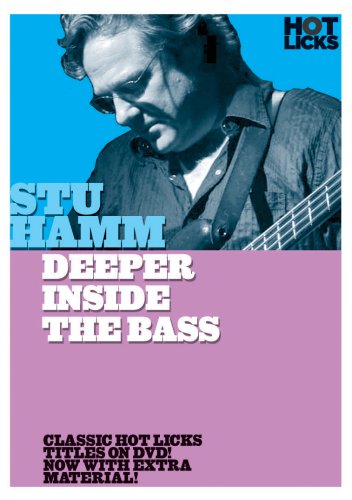 Stu's exciting follow-up to his #1-selling Hot Licks DVD, Slap, Pop & Tap for the Bass, takes you further into the creative and technical mastery of this incredible musician. This DVD is packed with valuable instruction, such as hand and finger warm-ups, open-note arpeggios, harmonic scales and chords, false and pinched harmonics, sliding harmonics, popping two notes together, metronome practicing, raking and flamenco techniques, plus exciting solo performances of Stu's compositions Sexually Active, Terminal Beach, Count Zero, and Lone Star. Also included is his now-famous rendition of The Star Spangled Banner!
>> Buy Now
>> Full Description