It's Great To Be Back in Argentina!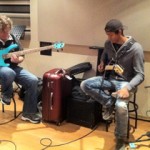 Greg and I flew together to Buenos Aires from Atlanta, and we thought that we had an empty middle seat between us until right before we took off, when one of the largest men I have ever seen sat down in 16D…there went the elbow room!
We rehearsed all day on Tuesday and it was my time meeting and playing with MI Grad Gianluca Palmieri – what a great player. We spent many an hour over plates of grilled meat and red wine talking about the staff at MI and his experiences there.
Wednesday was spent working on some of Greg's ridiculously fast unison lines, with a well needed break walking around Puerto Madero. More meat and wine and conversation filled the evening.
Thursday we did 2 shows an the Teatro ND Ateneo… the first show was completely sold out so they added a second one … and the band was killin'. I was impressed by the professionalism of all the crew and staff — especially Lisandro, the monitor man…good monitors can make the difference between a good show and a bad one.
The second show was fun, we played a few different songs, and completely screwed up the form on one but made a brilliant recovery… it's always the mistakes that are the best parts!! The crowds were great and our version of "Going to California" was a memory that will carry me through the next few weeks…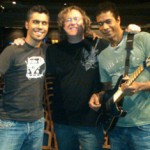 Later today I am meeting with my friend/guitarist/journalist Marcelo Roascio and his family and right now I am taking care of some MI biz (Bass Player Live schedules) and STILL WORKING ON THAT UNISON LINE… manana nos vamos a Rosario for the last show of our short Argentinian Tour.
Gracias Argentina!