Warwick Open Day 2014

Framus & Warwick present: MASS MENTAL, a monster of a band reunites some major superstars for a very special concert! (Robert Trujillo – Bass Guitar (Metallica), Benji Webbe – Lead Vocals (Skindred), Armand Sabal-Lecco – Bass Guitar (Stanley Clarke), Ken Schalk – Drums (Candiria) with special guest: Whit Crane – Lead Vocals (Ugly Kid Joe)
Be there on September 6th, 2014 when superstars from all over the world gather at Framus & Warwick in Markneukirchen, Germany to celebrate with you an unforgettable day of concerts, Meet and Greets, Factory Tours and much, much more!
Gitarre & Bass magazine will open the day at 10:00. You can register for Factory Tours by sending an email to openday@warwick.de. The spots will be full soon! So don´t wait for too long! You can shop at the flea market for blemished items or the Custom Shop for perfection and then have a BBQ.
Meet & Greets:
14:00 – 17:00 with some of the biggest players in the world!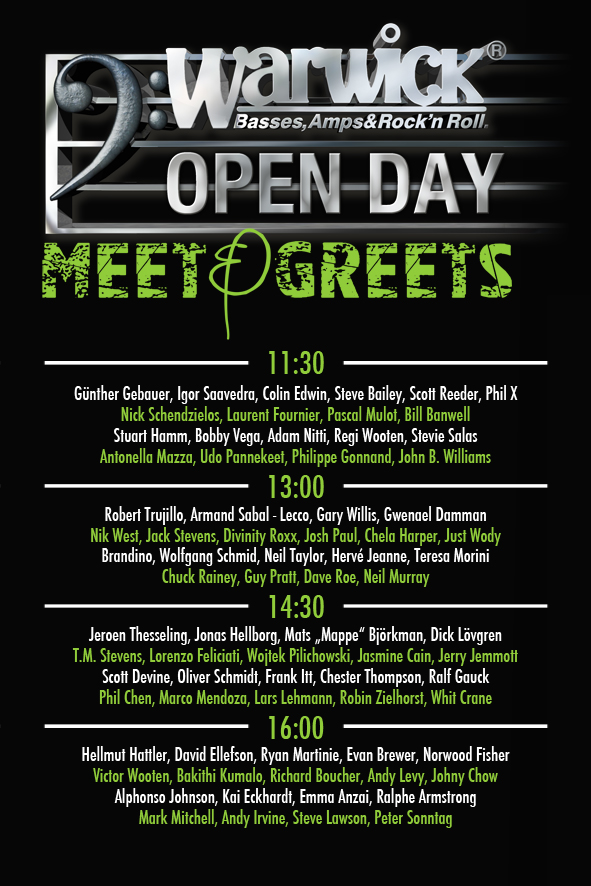 ……
Read more on: http://warwick.de/en/Warwick—News–Latest-Event-News-.html#D0523926001400661621A3